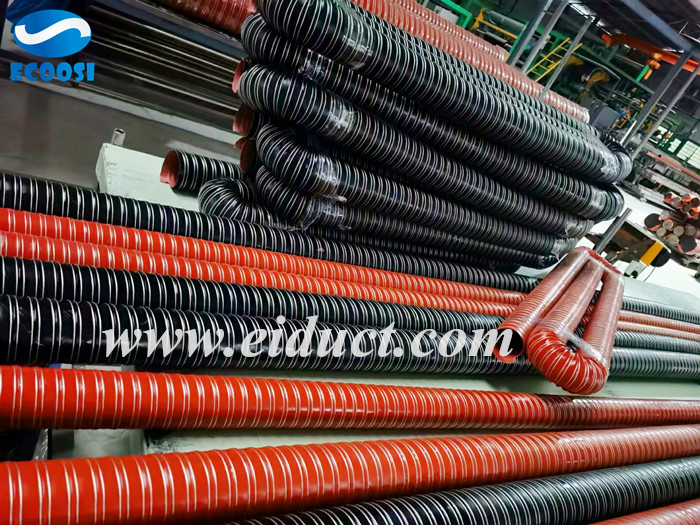 Why Ecoosi High Temperature Flexible Two-Ply Silicone Ducting Hose is ideal for Automotive & Motorsport?
Ecoosi High-Temperature Flexible Two-Ply Silicone Ducting Hose is made by double-ply silicone coated glass fabric ducting reinforced with embedded steel wire helix and has external glass cords. This flexible silicone hose size range from 19mm to 406mm, standard length is 4 meters, different colors are available, such as red, orange, black, blue, grey. Ecoosi Double Layer Silicone coated glass fiber duct hose could handle excellent working temperature resistance from -70°C up to 300°C and above. This silicone flexible ducting hose will continue working with temperatures that intermittently reach 310°C.
Ecoosi 2 Ply Silicone Hot Air Duct Hose with excellent resistance to various chemicals and extreme temperatures. Its rubber properties make it resistant to liquids and have good pressure handling capabilities. As it is used silicone-coated materials to create materials with multiple complementary properties, and silicone-coated fiberglass fabric materials are indispensable for most high-temperature hoses and conduits.
Ecoosi silicone flexible ducting hose with an embedded steel wire helix, the internal support of the spring wire makes the hose very soft, and the spring wire helps prevent the hose from sagging. And this silicone ducting hose is very lightweight and highly flexible, besides, it is kink-proof, as it is with a smooth interior. So it is ideally used for hot and cold air transfer, such as chemical fumes and dust at low pressure. So this high-temperature silicone ducting hose is ideal used for air/brake ducts in car engines, railway carriage HVAC systems, steam vents on industrial washing machines, chemical solvent, and toxic fume venting, anywhere where temperature, both hot or cold, can be an issue, where dust and toxic fumes need to be handled.
If you any interested in our High-Temperature Flexible Two-Ply Silicone Ducting Hose, please feel free to click contact us through email: info@eiduct.com or Mobile(WhatsApp): 00-86-187-1155-3123, or our other website: Ducting Hose to contact us, we are always here to satisfy your requirement!